Microscopic Spine Surgery
A microdiscectomy is a surgical procedure to relieve pain and other symptoms that occur when a herniated disc in the spine compresses adjacent nerve roots. During surgery, the surgeon frees the nerve by removing small pieces of disc, bone, and ligaments. A small incision and surgical glasses called a microscope or magnifying glass are used to magnify the area where the damage has occurred.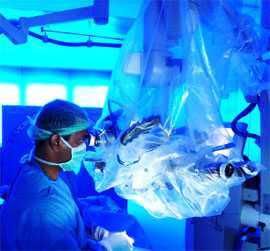 Dr. Parthasarathy Srinivasan was one of eight candidates selected from many aspirants from all the member countries of the Asia-Pacific Orthopaedic Association (APOA) for the prestigious APOA Depuy Spine travelling fellowship – Oct 2009.
Dr. Parthasarathy Srinivasan
D.Ortho, DNB Ortho, FNB (Spine Surgery), MNAMS.